"Apelsin" mobile app.
Since March 3, 2020 the grace period of 0% rate for transfers between UZCARD among card holders of "Kapitalbank" JSCB is going to expire. A new rate which is effective since March 3, 2020 constitutes 0.3 % per transfer.
Meet, new opportunities and secrets!
"Apelsin" is not just a mobile app-it is also a cross functional payment system that is suitable for each plastic card holder of the banks of the Republic of Uzbekistan.
By the aid of the mobile app you may transfer funds from card onto card only for 0,5% from amount of transfer, and between cards of "Kapitalbank"JSCB and in all for 0,3%! Moreover, all it takes is for recipient to have a plastic card from "Kapitalbank"JSCB and the transfer comission will also be 0,3%.And what is more, for application users are available more than 200 service providers for paying at any time of day or night!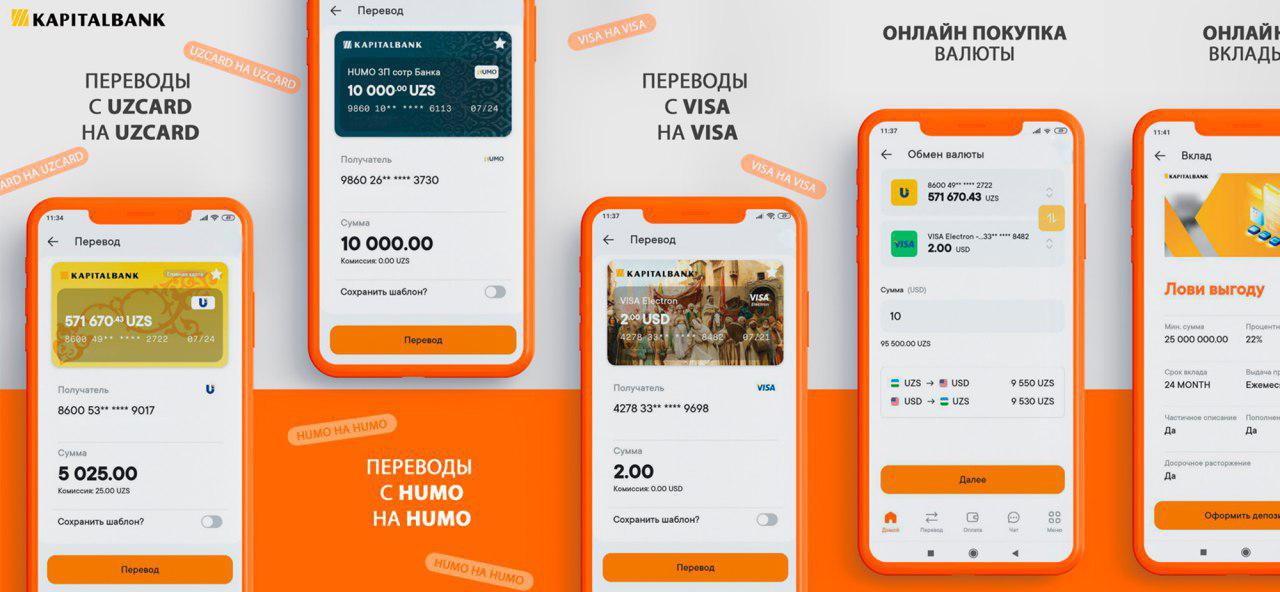 Fast card reader.When adding cards or making transfers you don't need to enter the number and card expiration date,our scanner will do it for you.It is enough just to place the card in a special window-the camera of your mobile phone and our software will do everything by themselves.
Twenty-four-hour online support through chat, which is available inside the mobile app.There is no need to leave the app to ask a question or to ask for help. You form the app for yourself.Move the necessary functions for you to the main screen of the mobile app.It's quite simple.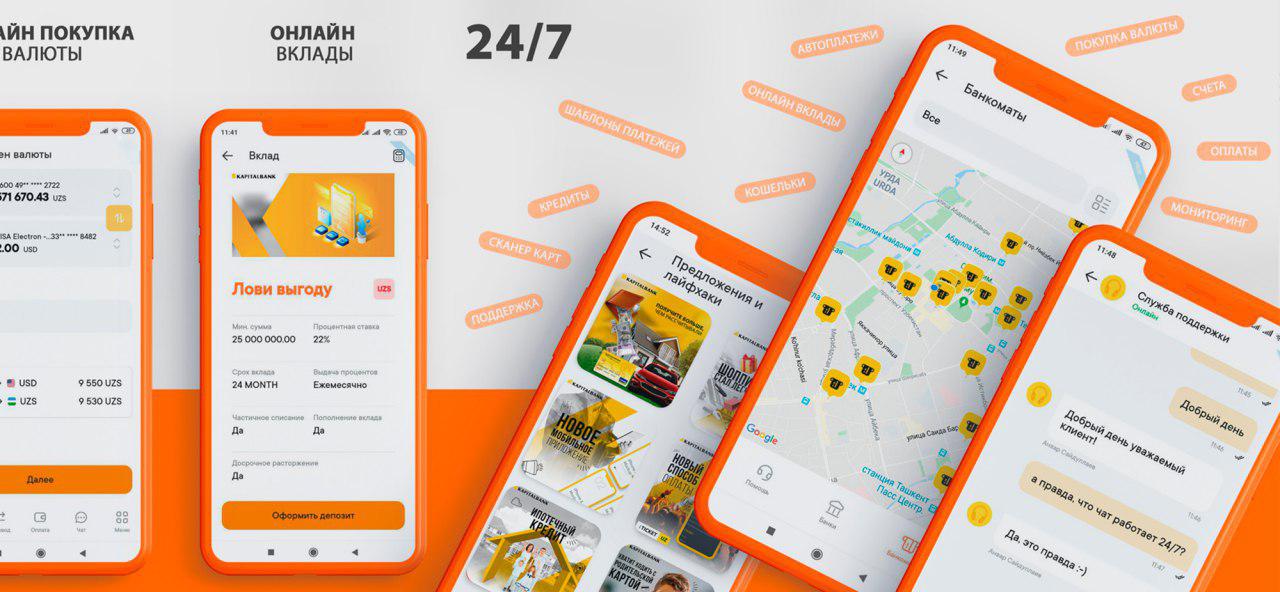 Offers and lifehacks in a convenient formar of history."Apelsin" will tell you where you may save and increase.
You form the app for yourself.Move the necessary functions for you to the main screen of the mobile app.It's quite simple.
Do you need a nearest ATM or bank branch, minibank, exchange office?The app will help you to find the nearest to your current location and upbuild the easy route.
Still more convenient options are available in the "Apelsin"app for holders of the plastic cards of the "Kapitalbank"JSCB, such as:
Soum deposits:"Convenient" (19% per annum),"My revenue" (21% per annum),"Online Smart"(21% per annum)

Currency deposit-"Online prime"(4% per annum)

And in addition the writing down is available in the "Convenient","My revenue" and "Catch the profit" deposits.

"Kapitalbank" JSCB credits settlement without additional fee! Monitoring of payments on any cards-free of charge!

Conversion operations, not only from UZCARD or HUMO to VISA but also from VISA to UZCARD or HUMO- twenty-four-hour,without fee and on more favourable exchange,which is available only in the app!

Momentary transfers between VISA cards without fee

Self-blocking and UNBLOCKING of the plastic cards(UZCARD, HUMO,VISA).
Your juicy bank that is always here!

Download our "Apelsin" app by following our link or use QR-code.Convenient tool and helper for personal finance management-"Apelsin" app for devices with Android and iOS platform.